Most accountants can provide a reliable and effective compliance service, handling annual financial statements, tax returns and making sure that you lodge all your statutory requirements accurately and on time. But these services focus on the past – not the evolution of your business. This is where a business advisory service comes in, thinking about the future and taking into account 3 key elements:
Where do we want/need to be?
Where are we now?
How will we get where we want/need to be?
If you want a taste of how Business Advisory can
benefit your business, sign up for our free email series before you read on!
What is a Business Advisory Service?
Business advisory services provide your business with professional knowledge and invaluable advice in order to identify strengths and improve upon weaknesses. A good advisor combines business coaching, mentoring and accounting advice and works with a business to identify their goals and vision — and the barriers preventing it from reaching them.
Utilising a series of analysis tools, and working proactively with the business owner, the advisor will outline these barriers which could be based on finances, marketing of your services or working with the business' team to become more efficient.
During the advisory period, both parties work together with mutual understanding of the barriers and devise a strategy that will benefit the business and overcome identified issues.
Why Employ a Business Advisor?
A good Business Advisory service looks to the future, utilising the past as the starting point. Business owners don't often get a chance to sit back and look at where the business needs to be to achieve their business and personal goals. A good advisor provides the tools and motivation to facilitate business owners to take the time to work on the business (not in it).
Is Business Advisory right for you?
Most business owners create goals and have ambitions to grow, but without a plan of attack it is simply a wish. At the end of the day you need to decide if you require assistance to grow and, if so, seek the right advisor to make it happen.
The role of an advisor is to build a working relationship with their clients and facilitate the outcomes that will enable them to plan for their goals. By utilising extensive experience in implementing processes, the advisor and business owner can work together to achieve the desired outcomes.
Mead Partners Business Advisory Strategy
Initially, Mead Partners will utilise a number of tools to identify the issues that are preventing your business from reaching its fullest potential. As the business owner, you are key in this process, so we actively listen to you which helps us understand what is important to your business.
From here we develop a 90-day strategic plan. We choose 90 days as this long enough to get an outcome but short enough to have a real and immediate impact. This includes setting realistic and achievable goals that will have the greatest effect on your business. We hone in on concrete steps you can take to put your business on the right track, not pie-in-the-sky aspirations.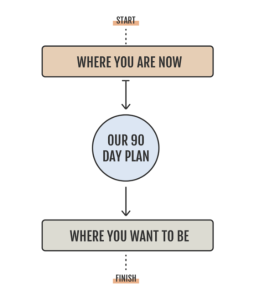 Business Advisory Email Series
Our 4-part email series on Business Advisory will allow you to take the first steps to growing your business all on your own! Enter your email address to get started.