Running a business is never easy — we know because we've done the hard yards ourselves. Now it's our turn to pass on the wisdom and experience of our experts to help your business grow and succeed.
Mead Partners business advisory services provide your business with professional knowledge and advice. Our strategy is to work with you to identify your business's goals and vision — and the barriers preventing you from reaching them. Our goal is not to be the 'smartest people in the room', but to listen and understand your goals and aspirations and tailor a solution specific to your business's needs.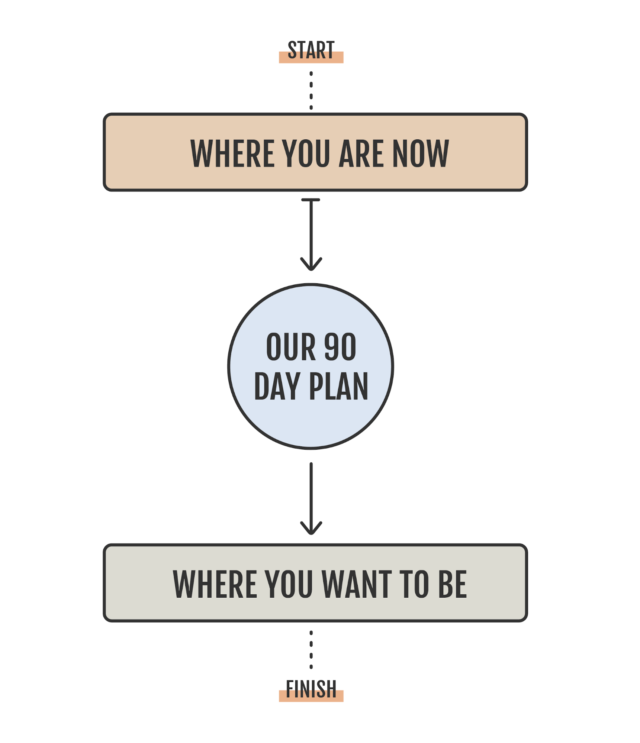 Strategic Planning for Your Business
We utilise a number of tools — and our collective expertise — to identify the issues that are preventing your business from reaching its fullest potential. As the business owner, you are key in this process, helping us to understand what is important to your business.
From this, we then develop a 90-day strategic plan complete with realistic and achievable goals that will have the biggest impact on your business. This is not a list of pie-in-the-sky aspirations, it is concrete steps you can take to put your business on the right track.
"We identify goals that have that perfect balance between ease of implementation and impact on business vision." 
Shaun Borg, Partner, Mead Partners
But it's not set and forget, we work with you throughout the 90-day period to ensure you stay on track and to help tackle new challenges which may arise throughout the implementation period. Measurement and accountability are the keys to success here — and we have the tools and expertise to measure your success and achievements along the way.
A Fresh Set of Eyes for Your Business
We aren't here to issue commands and edicts on how to run your business. We believe business owners and managers are experts in their businesses, after all you're living it day to day. What we offer is a fresh set of eyes to take a look at your business and to try and help you think outside the box.
"We enable business owners to work on the business, not in it."
Mead Partners
We bring decades of experience across all facets of the business environment, from financial management to risk management to taxation. We bring these macro ideas to your table to help you get avoid and overcome the pitfalls preventing your business from reaching its fullest potential.
The biggest challenge you have as a business owner isn't always the expected issues, like sales or cashflow, it's accepting that change is sometimes necessary — and that a little change can bring a lot of success to your business.
Common business challenges we've helped overcome
Decision making & management direction — the "best use of resources"

Sales growth and setting targets

Product development

Engagement of employees

Work environment

Family succession

Marketing

Cashflow management

Administration and bookkeeping
Want to know more about how Mead Partners can help your business?
Speak to us today.